Dr. S. Sunil Kumar - Director & Chief Physician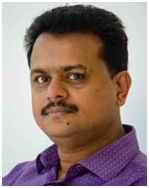 Dr. Sunil is born and brought up in Kerala-the birthplace of Ayurveda. He did his Graduation and Post Graduation in Ayurvedic Medicine from University of Kerala .He is now the Director and Chief Physician of Sanjeevani Ayurveda Hospital. His interests lie in all areas of Ayurvedic treatment, especially Panchakarma.

A true lover of Ayurveda, Dr. Sunil is also active in the area of Ayurvedic Research. He was engaged in research for about six years following his post graduation in association with the Regional Cancer Centre and the Regional Research Laboratory in Kerala, where his focus is on the analysis and efficacy of Ayurvedic herbs and medicines in the area of immunological disorders. He is presently a faculty member in Parassinikadavu Ayurveda Medical College, Kannur.

He started another company, Vedic Remedies Pvt. Ltd. in the year 2003 and has been actively engaging in the exports of Ayurveda health care, doing consultancy services and manufacturing & designing of Ayurveda Equipments.

He is a member of many Professional & Scientific Organisations in India. Currently he is Trustee of World Ayurveda Foundation.

Dr. Sunil is also a good organizer and social worker. He has organized many national level workshops and seminars and had played a key role in the conduct of international events like World Ayurveda Congress.

Dr. Maya, a Gynecologist in Ayurveda and a Faculty Member Ayurveda Medical Education, Government of Kerala is the wife of Dr. Sunil. He has two daughters Aishwarya & Aditi doing their schooling.